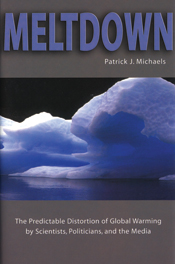 In the book Meltdown: The Predictable Distortion of Global Warming by Scientists, Politicians, and the Media, by
Patrick J. Michaels, the Professor examines the myths and realities surrounding the global warming issue. Dr. Michaels
guides the reader through the intricate web of lies and misinterpretation that constitutes the bulk of mainstream climate
science reporting. Using freely available government and United Nations data, Michaels demonstrates that not only are the
policy makers at the Intergovernmental Panel on Climate Change (IPCC) guilty of gross exaggeration, they are well aware of it.

With a witty yet very clinical analysis, Professor Michaels dispels the urban myths and less-than-scientific conclusions of careless
researchers and the popular media, while providing an insightful examination of the government funding monopoly that
sponsors consensus science and stifles true, objective investigation.

Patrick J. Michaels is a research professor of environmental sciences at the University of Virginia and a senior fellow in
environmental studies at the Cato Institute. He is past president of the American Association of State Climatologists,
winner of the American Library Association's worldwide competition for public service writing, and an author of the 2003
climate science "Paper of the Year," awarded by the Association of American Geographers.

Published by the Cato Institute, 1000 Massachusetts Ave., N.W., Washington D.C. 20001. 2004.